Training & Consultancy
The aims of Tony Ryall Training Ltd are to provide high quality training and consultancy that has its focus on solutions rather than sanctions for those individuals who exhibit challenging behaviour.
A greater focus on monitoring, evaluating and reviewing incidents is crucial in providing information on how staff can share responsibility with the individual concerned for their behaviour and learning. This ensures that staff have the training to de-escalate incidents before the use of Physical Interventions are deployed.
For the past 27 years Tony has been working with Young People and Adults in various situations where the individual has exhibited challenging behaviours. He has extensive experience in working in the field of challenging behaviour in Educational, Residential, Activity Clubs, and with Parents/ Foster Carers.
Tony Ryall Training Ltd can provide safe and effective training focused on the individual and the management of challenging behaviour. We aim to equip staff with the necessary tools to intervene before the need to use a safe and effective physical intervention. However should this need arise, all of our training packages have been accredited by the ICM Accredited Scheme (The Institute of Conflict Management) and we strive to work within its Code of Practice.
All training packages are risked assessed.
Who can access Tony Ryall Training Courses?
• Educational Services
• Parents/Families/Foster Carers/Adoptive Parents
• Educational Projects outside Educational establishments
• Social Workers/Residential Care Staff
• Transport Drivers and Escorts
Tony Ryall Training Ltd provides the following training and consultancy:
• Educational/Residential Social Care Improvement Audits
•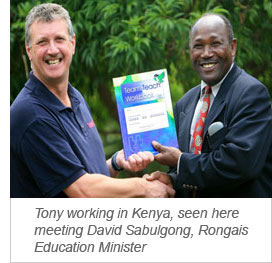 Behavioural audits
• Inset/Conference Speakers
• Induction training
• Risk Assessments on the Management of CYPVA
• Policy and Guidance writing
• Leadership Support and Organisational Restructures
• Positive Behaviour Management and Support for Senior Leadership Teams
• ICM Accredited Safe and Effective Positive Handling Strategies (The Team Teach Approach)
• Rest, Recovery and Re-Orientation Rooms (a safe environment for individuals to calm down safely)
All Team Teach techniques have undergone a thorough legal, medical and tactical risk assessment review, carried out by three independent medical experts.
Tony Ryall is a Principal Trainer for the Team Teach Approach and leads courses all over the UK and has been commissioned to work in Kenya, Malta, Northern Ireland and most recently The Falkland Islands.
Team Teach training in Gloucestershire, South Gloucestershire, Birmingham and South Wales (Neath/Port Talbot and Rhondda–Cynon-Taff)
Course information
Courses can be completed as a whole day inset training, twilight session or ½ day session. All BILD courses are in duration of 6 hour or 12 hours training to be certificated.
Course costs are available on application. For any course you will need to provide a suitable training venue, refreshments and lunch arrangements.
Contacting Tony Ryall Training Ltd
Tony Ryall Training is happy to offer advice via the telephone or internet free of charge. Please contact me via my mobile/landline or email for professional advice on services and courses offered.
Mobile telephone number: 07816 546061 or email: info@tonyryalltraining.co.uk
I am confident that we can work together to improve practice and safeguard clients/staff and services.
© tonyryalltraining.co.uk 2016. All Rights Reserved.